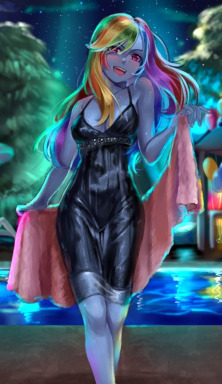 Source
Rarity gets Rainbow Dash to wear a black dress, even though it's not her style. Of course, it does nothing to alter her personality, and without hesitation she competes with Applejack in a swimming race, unafraid of getting her dress wet.
Inspired by a series of pics by different artists on derpibooru of Rainbow wearing a black dress and getting it wet, either in the swimming pool or singing in the rain. I like it so much I did my own story around it.
I think it's a nice change of pace from what I usually write to do another one of these.
Chapters (5)