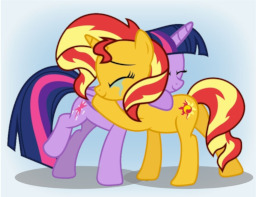 Source
Sunset Shimmer shouldn't be here. She knows that and Twilight Sparkle knows that, but the latter won't admit it, resorting to ancient, dark magic to make life fair. Sunset must make Twilight see how much she is hurting herself by refusing to let Sunset Shimmer go and move on.
An entry into Oroboro's Sunset Shipping Contest: Endings.
Cover art revised by the generous and awesome Shortmane.
Chapters (1)