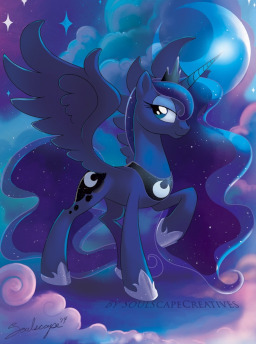 Source
After falling from Princess Luna's grace, you, a simple Bat pony tasked to represent your race, are relocated to the castle walls. As part of your punishment, you encounter menial tasks such as cleaning of the barracks and various guard armors. Tonight was the first night in months your fellow guards have trusted you enough to do something beyond these simplistic chores. As the night passes and your head hits the pillow in the day, even in your dreams you find no peace.
Now, however, you will see that your chance for redemption has come in the form of the mare you hurt worst. Will you screw this up just as badly and lose the only pony who ever stuck by your side through your ordeals? Or will you rekindle your lost feelings for one another and finally atone for your mistakes?
Written for the 2017 CategoricalGrant's CuddleFic Competition. Written in collaboration with Shadow Rift..
Coverart by Soulscapecreatives
Chapters (2)