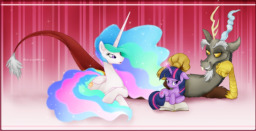 Source
[Anime] [School Life]
Faithful student Twilight Sparkles lives a normal pony's life in Canterlot's Magic school.
She enjoys being taught under her mentor, Princess Celestia, but one day during her normal sessions.
A lofty dragon under the name of Discords appears in Twilight's life and seduces her teacher!
Jealous, Twilight must find a way to remove Discord from her life.
Chapters (3)