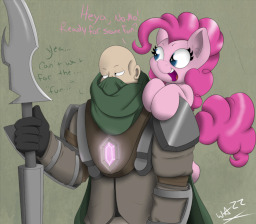 Source
Story is going to be rewritten at a later date. Expect that sometime down the road!
Is it out of foolish loyalty to your master, or is it merely stupidity that brings you here? ~ Nomad.
Nomad is a man of intelligence, power and above all witty sarcasm. He used to be an adventurer and what-not, but gave that up to watch idiots fight in an arena and continue to build up power. However, his plans were futile when an adventurer defeated him in a battle, and forcing Nomad to flee.
Now, Nomad is in the land of Equestria, facing new terrain, talking ponies, and Pinkie Pie's antics. It'll take a while to adjust and find any sensible beings to talk to... But, power will always be on his mind and he'll make sure to learn plenty about these silly ponies before he strikes.
---
Author's Notes:
UPDATES: They will come weekly, I hope. I want to stay ahead of the story. As of now, I have chapters done and some need to be edited. I'll continue to write this to keep chapters constantly going.
Nomad is not a human (although he is defined as one in the wiki, I consider him another race. Style choice). His race is defined as a "nomad", or a race of travelers. His appearance is just very similar and functions on a much higher level than a regular human. So, don't whine when there isn't a human tag (you don't need one with crossovers, anyways).
For those who have played this quest, I altered a lot of the dialogue to work with the story. It still has key points from the original, but I wanted it to be this way so I can add my own backstory to Nomad.
Thanks to The-Wazz for taking my request on DeviantArt and making it capture everything about Nomad!
Takes place after the events of Twilicorn. So, she will be a Princess within this fiction. This is a RuneScape crossover (something that hasn't been done well, yet) and I plan to keep this going for a bit. Going to advise this now, a lot of bull appears in the first bit to add some character background and relationship building. It'll be comedy for the first little bit until everything is set up for actual plot building. Think of this as the "introduction" and then the "rising action" will take place afterwards. So, enjoy!
Lore/Extras:
For those lore junkies out there who don't know much about Nomad or anything about RuneScape:
Nomad's Wiki
God's Wiki + Ages Wiki
Creator-God: Freneskae
Creator-God: Jas
These are just pieces of useful information. Just in case I mention it in the fic.
Nomad and Nomad's Requiem is property of JaGex LTD. I clearly don't claim ownership of either and I only put this here because I don't want to break their copyrights.
Chapters (6)