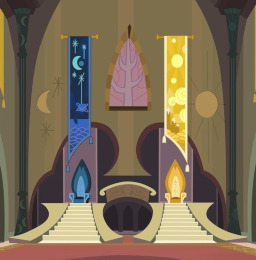 Source
1000 years ago Celestia broke her promise to treat her sister as an equal, bringing forth Nightmare Moon and the Battle of the Two Sisters.
Fourteen months ago, Celestia broke that very same promise once ago, leading Luna to banish herself to the Everfree Forest and the Natchs who worshiped her
They say the third time is the charm, but once again Luna feels as if she's been pushed aside again. Things will never get better, will they?
---
Unofficial sequel to LuneLover's The Lunar Escape
Captain Broad Sword is borrowed with all respect from tom117z's outstanding stories Change and Change: Queen of the Hive
Captain Shadow Iron is courtesy of Crimson Elixir
Proofreading and editing mostly done by my were Vik-Thor, with some help from Falnor and Snowliason proofreeding some last minute (like ten minutes before I posted last minute) additions and changes I made
Chapters (1)