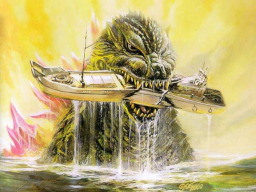 (Collaboration project with Chaos2012 and Seven81493)
Godzilla... A creature of epic proportions... He is a terrifying reminder of mankind's past experimentation with nuclear weaponry. For decades he has been a living natural disaster, an ever present threat to the human race. He cannot be killed, he cannot be contained, and he cannot be stopped. The best that mankind has ever been able to do is merely slow him down.
Until now...
Scientists have developed a satellite-mounted cannon capable of generating a black hole. They call it the Dimension Tide, and they intend to use it on Godzilla. However, the plasma energy used in the initial testing of the Dimension Tide causes a dragonfly to mutate, and eventually spawn a massive insect called Megaguirus. Godzilla is successful in killing Megaguirus, but the humans are also able to land a successful strike with the Dimension Tide. Godzilla is banished to an endless void, never to be seen by anyone ever again.
Or so they think...
In an alternate universe, Nightmare Moon has returned from her one thousand year imprisonment to bathe Equestria in eternal night. However, her grand speech to the populace of Ponyville is interrupted by the roar of a creature far larger than anything Equestria has ever seen... and far more dangerous than it has ever faced...
Chapters (1)