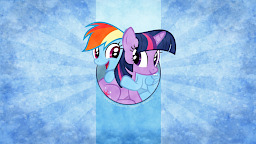 Source
Take one part Twilight, one part Rainbow Dash. Mix them together and what do you find yourself with?
Friendship?
Adventure?
Magic?
A heaping helping of pure Awesome?
A recipe for disaster?
If you guessed 'All of the above and then some', you guessed right! Follow these two friends and companions in a series of adventures that range from silly to charming to hilariously perilous and all the way back again. You'd have to be be crazy (and uncool) to ignore such an epic mix of epic epicity. Interested? READ ON.
Author's Note: Updates will be irregular but not infrequent. The chapters in this fiction will be standalone, unless I specifically state otherwise. You need not read them in any particular order to fully enjoy them.
Chapters (1)