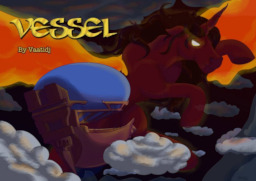 This story is a sequel to Fears of Bygone Eras
---
It started as an innocent trip to visit a friend in Canterlot. It has led to Queen Twilight's death.
As Aurora Oracle claims Equestria as hers for the first time in centuries, the world starts to unravel. Changes in leadership, uncertainty about the usurper's cause, and history long since blotted from books returning into the public eye. All of it has made it clear that someway, somehow, a war will ignite, but how soon it will remains uncertain to those outside of Equestria. While some do their utmost to prevent complete disaster, others prepare for the inevitable.
After all, war is coming to Equestria. It is simply a matter of who will ignite the flame.
---
This is a direct sequel to Fears of Bygone Eras. It is preferred to read it before reading Vessel.
Thanks to my friend Sabr3cat for proofreading these chapters for me.
Chapters (4)