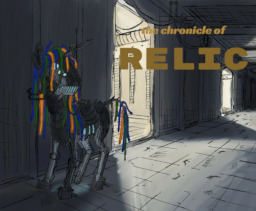 Source
Equestria is gone. Canterlot, Manehattan, Ponyville. All nothing more than piles of rubble.
Relic is not a pony.
He is an FF-7 unit, a synthetic pony built hundreds of years ago and modified to scavenge the Ruins of Canterlot for scraps and supplies. One day, he finds a mysterious, red, lightning bolt-shaped gem; triggering the adventure of a lifetime. While battling monsters and maniacs, Relic experiences changes in himself that he never before thought possible.
---
~CONTRIBUTE TO THE WORLD-BUILDING!~
Every OC featured in the story will be credited in the afterword! Be sure to leave a description of your OC in the official idea page!
ALSO LOOKING FOR EDITORS AND PRE-READERS.
Editors and Pre-Readers will be credited in the participated chapter's author note. Send me a PM if you are interested.
---
Creating a soundtrack! Want to contribute or listen? Here's my SoundCloud!
---
This is NOT a Fallout: Equestria side story. However, if it suits your fancy, feel free to believe so. But this is not FoE related, and any similarities are merely accidental or simply references.
Rated Teen for violence and sexual references. Gore tag for blood and... well... gore.
Chapters (11)