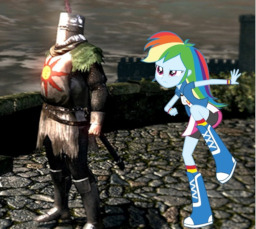 After meeting a bizarre colt in the ruins of an old castle, Rainbow Dash is thrust into the desolate land of Lordran. Trying to find a way back home, or at least to Equestria, join Rainbow on her quest across this land, as she finds out just how badly things are becoming here. A little brashness and a little more coolness might just be what this world needs.
Note: This is a side story to Sunset Shimmer and the Land of Pokémon. To fully understand this story's setup, and the previous paragraph, please read that one first. Or at least the first two 'paralogues' inside of that story. A general knowledge of Dark Souls 1 doesn't hurt either.
Contains: Use of crass language, death, violence, Dark Souls sh*t in general, and unhealthy amounts of awesomeness and coolness. Oh yeah, and this story is using the EQG Rainbow Dash, not the pony one.
Inside Dash's Inventory of Awesome
Hollow soldier armor / boots / gauntlets / sword (broken) / shield
Estus Flask
Peculiar Doll
Lavender Sign Soapstone
Chapters (4)