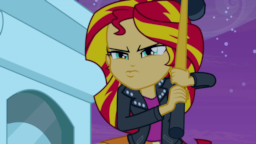 Source
Sunset's clever plans have taken her years to enact, and she has seen them shatter in just days. Now, she is prepared for one last bluff, and in the end, she hopes to come out with the crown. Barring that, if her bluff is called, she'll at least have her dignity.
One little change, one outside factor she hadn't accounted for, leaves her with nothing but a mess. She was not prepared for this...
Rewatching Equestria Girls, I realized that there was a gaping plot hole wherein they could have ended the movie much sooner, totally wrecking Sunset's plans without wrecking the school, blowing a crater in the courtyard, or redeeming Sunset Shimmer. Set right at the end of Equestria Girls, and diverging wildly from there.
This might start an AU, I am thinking of calling it The Diademverse. Hence, it's listed as Incomplete until I decide just what should be done with angry bacon pony.
And thanks to all who pointed out the title typo. Great way to start, right?

Chapters (1)