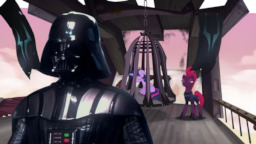 This story is a sequel to Danger in the Sky
---
Darth Vader meets up with Tempest Shadow after she had succeeded in capturing Princess Twilight Sparkle. During their journey back to the captured Equestrian capital of Canterlot, Twilight learns more about the Sith lords past, and his greatest desire.
---
A very special thanks to EJLightning007arts for making the first story art image for this story, and to LoneUnicornWriter for recently proofreading it.
---
This Star Wars/MLP crossover is set during the MLP movie, as a "What If Darth Vader was in My Little Pony: The Movie". After success of "I Will Not Fail", people requested sequels, so I plan to make 5 sequels. This is the 4th of the 5.
Chapters (1)