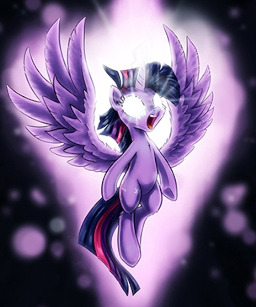 When a troublesome character shows up in Ponyville, Rainbow Dash, Rarity, and Fluttershy go to Twilight Sparkle to get her to send a letter to Princess Celestia asking for aid. Unable to see to it herself, Princess Celestia gives Twilight the means to deal with the problem herself.
Notes: Just a quick one-shot that I randomly got inspiration for.
Takes place mid season 6 and Twilight Sparkle is a princess and alicorn.
Cover art is Princess of Magic by kp-shadowsquirrel on deviantART
If you're the artist and want me to remove it, please just let me know and thy will shall be done.
Chapters (1)