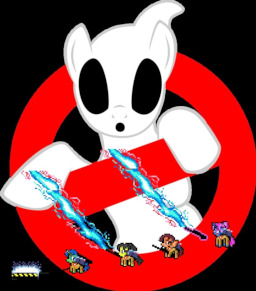 All sorts of weirdness has been occuring across Equestria. Cockatrice attacks on Canterlot. Changelings taking over everypony in Ponyville and replacing them.
None more weirder than what is happening in Manehattan. Some pony scientists are about to uncover the machinations of an ancient cult.
The Ghostbusters team in New York wasn't the only attempt of The Destructor entering a world.
Here is the parallel tale of Equestria's paranormal investigator and eliminator pony team.
Takes place during the events of the IDW MLP comic's first arc.
Sex tag for Sumareian summoning rituals and innuendo.
Decompressor created this amazing fan art I used for a cover background.
Chapters (5)