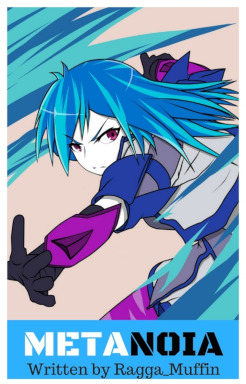 The story takes place in a dystopian earth, where magic and technology coexist with each other. Ten years before the events of the story, a young woman named Sunset Shimmer unleashed magic from her former world and changed the whole course of the world forever. Humans began to exhibit unique magical abilities dubbed "Meta".
Fast forward to the present, Sunset Shimmer, now known as the Lord of Calamity, has vanished. Magic is now used as an energy source for technology. With the combination of the two, weapons were made to fight against these creatures and the impending return of the Lord of Calamity.
Vinyl Scratch, a rebellious and carefree freerunner on the roofs of Neo Canterlot, finds herself in a dilemma when a newly spawned evil known as Nightmare Moon suddenly announces a tournament that awakens her true destiny. With a team of unlikely individuals, she embarks on a quest to rid of the evil that Sunset Shimmer brought to the world.
---
Cover Art done by yours truly. (Click here for Full Image)
Proofread and edited by Jarvy Jared
This story is an alternate take of the PomE universe. The OC's belong to authors of PomE, please read their stories. (Click here for more info.)
Chapters (8)