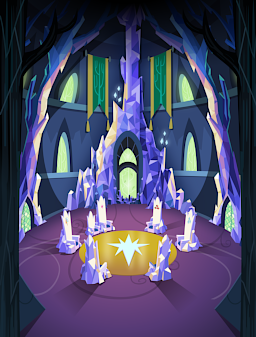 Spike's been adjusting well to having a castle as his new home. Initially, he thought that things would remain exactly the way they always were, only, the box had given them seven chairs instead of just six. Each of them bore the mark of the Elements, whereas the seventh remained bare, was much smaller and was positioned right next to Twilight's. It seemed that Spike had finally been recognized and given a place within the group, but what exactly did that signify?
He hadn't used a key and most certainly wasn't one of the Elements. While Twilight and the rest were all established as Equestria's best line of defense, the most Spike had ever accomplished was getting lucky against King Sombra. Although being presented with a new position of power, he was still plagued with doubt. Spike's thoughts were nervous at the best of times and extremely self-doubting at the worst.
Still entirely unsure of his position amongst his friends, he gets paid a visit from the future by a pony who carries a grave warning for the past. Only Spike may save the future, but at what cost?
And just what dangers does the future hold?
Many thanks to my editor: Drgnwolf
Chapters (6)