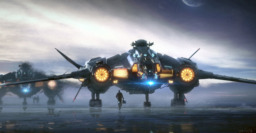 My name is Clarissa Ryker, Captain of the UEE Endurance and commander of the 2nd Battle fleet.
And this is my story of how I ended up in the world of Equestria.
This is a crossover of one of my most awaited games star citizen.
Teen for language. There will be gore and probably sex later on, however there will more than likely be no clop. Just light stuff, and in which case the story will more than likely be switched to mature depending on feedback.
(Main character is my OC)
I recently rewrote the first 2 chapters of this story for readers who have come back after the re-write
Said chapter marked with (x)
constructive criticism is totally welcome and very appreciated.
Special thanks to Arctikfox and Dragonoidsix seekers for all the suggestions and help
Thank you star citizen for creating such a amazing universe and game. Also cover art credit goes to Robert space industries. https://robertsspaceindustries.com/
Chapters (6)