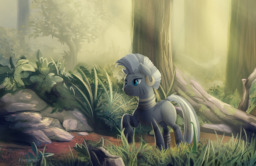 Source
She can't remember much. All she knows is her name and the pain of an unknown tragedy. She wakes up in a strange forest in the home of a manticore who speaks only in rhyme. He sees the pain in her eyes and takes her on a journey to find herself and the memory she has lost. What is revealed is a story of loss, death, secrecy, young love, and more than anything else moving on.
This is the story of Zecora that no one knows. Before she found her voice.
---
This story is based off the work of William Shakespeare specifically Macbeth and Romeo And Juliet. I was inspired by the witches in Macbeth because of their similarity to Zecora in speech pattern and the whole cauldron thing. I use several lines from the original play but its public domain so who cares.
Source to image can be found here
Chapters (1)