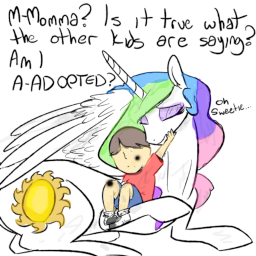 Source
This is a collaboration with Fallout!
I DO NOT OWN THE PICTURE
Four humans gone to Equestria in hope to share with humanity. But one more came. An orphan child. He tries to fit in, but it's impossible. After left at Equestria, Celestia, the princess of most ponies, finds the child. She decide to raise him on her own. Soon asking the other humans for there help with a few things. Will our h-
Wait, this isn't the story of the four humans?
It's about the child?
Well then!
Will this child survive? Or will he...er.....live a none happy life? Let's see!
Chapters (3)