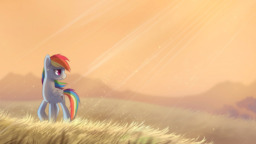 Source
Sometimes, ponies get caught up in the hustle and bustle of their daily activities, and don't take time to appreciate the gifts of nature. All it takes is a bit of effort, like a walk alone in the morning, and you'll be surprised at the refreshing, calming, and inspiring qualities nature in its purest form can bring.
---
EQD Friend Off Round 4 Submission!
Many thanks to Ruhje, the artist of this amazing picture the story is inspired by.
Chapters (1)