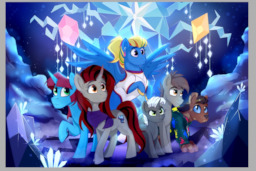 Source
This story is a sequel to Obsidian: Shards Of Sombra
---
Equestria's perils are at an all time high.
The throne is held by a wicked and cruel tyrant, and the entire kingdom is besieged by horrific abominations of science and Dark Magic. Much of the population has seemingly vanished, and there is little hope for the once beautiful land of friendship and Harmony.
But Obsidian has had ENOUGH; she and the rest of The Siddy Six are determined to fight back, discover what can be done, and hopefully put an end to this living nightmare, once and for all.
In the final arc of the Obsidian storyline, will we get to see her and her friends conquer the darkness once and for all? Or will this spell the end of her, her friends and possibly all of Equestria?
{Cover art by the incredible Rutkotka}
Chapters (9)