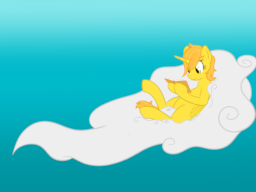 A rewrite of Spirits
Sunny Days, a young alicorn filly, wakes up in the middle of a forest with no memory. She is adopted by Princess Celestia shortly after she is nearly killed by a Manticore.
---
Act 1: Rise of Princess Sunny Days
Act one follows Sunny's early life as she starts to discover her past and destiny. However, an old enemy of her mother's resurfaces to bring about eternal night. But is there more to this mare than meets the eye?
---
More acts to come.
Character Tags will represent the current act.
The story starts twenty years before season 1
---
Cover Art created by PonKing.
Find the previous cover arts here ---> https://www.fimfiction.net/blog/737867/past-cover-arts
Chapters (6)