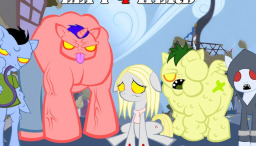 Source
The groups of pony survivors must work together to reach their destination, but along the way (to Twilight Sparkle's disbelieve) are zombie ponies. Some of these ponies have been mutated to make the survival to the survivors harder. Little do these living ponies that the zombies are also alive...
Notes: I rated it T because it most likely doesn't have much M rated things, but not very young audience appropriate. I put down "other" due to the fact that there is over ten characters, twice the allowed amount for character tags. I added the "Random" because of I realized that I added multiple references without much warning. Feel proud if you get all the references in the fan fiction! I might add more chapters in the future. If I novelize it, it is by accident, and has the right to be removed. If you want to add your own part of the story (different survivors or what happened to existing survivors), please get my permission. If there is a way to enable other people to make their own chapters, I will allow it for those with permission. If not, then you can kind of give me an idea of a new chapter.
Left 4 Dead belongs to Valve. MLP:FiM belongs to Hasbro and DHX. This is a fan parody. Please support the actual things.
Thank you for taking your time to read this.
Chapters (4)