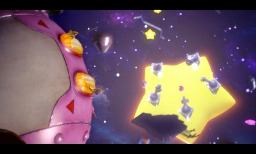 Source
" This mysterious mech produces different powers depending on its pilot. Kirby's Copy Ability power has transformed it into a shape-shifting copy robot!"
— Kirby: Planet Robobot —
{SPOILERS TO KIRBY: PLANET ROBOBOT!!!}
Haltmann Works Company. An Intergalactic Corporation that wished to reactivate [Star Dream] and achieve infinite prosperity through a plot called the Mechanizing Occupation Project. They produced a vast number of Invader Armors to help them achieve their goal. Possibly hundreds, if not thousands of these were built to harvest planets to obtain their resources and technology.
Yet this is the story of one: [Unit Model# I-7090]. One mech that would have remained unremarkable were it not for the change in status quo that occurred when he encountered the inhabitant of Popstar named Kirby. From there he became so much more:
The one who made a friend in a little pink life form.
The one who went against his programing to assist him in his adventure to save his planet.
The one who helped him to face a menagerie of menaces and puzzles to reach his goal.
And the one who after the final battle, said goodbye in the only way he could.
Perhaps he was willing to stay adrift in space until time itself ended, but what if he ended up on another planet, where the ultimate source of prosperity was a magical resource called friendship?
Chapters (1)