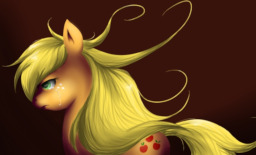 After AppleJack's Parent's died she grieved in silence. She didn't want anypony to know how she was really feeling. How broken and wounded she was, like a soldier with a battle wound she kept going. Days turned into months and months turned into years.
Time flies fast when you're breaking.
---
A story about how mental health always should be your top priority, to heck if anyone tells you differently.
---
Edited by: Rain84, VitalSpark and BrickBrock24 Thanks so much guys!

Chapters (1)