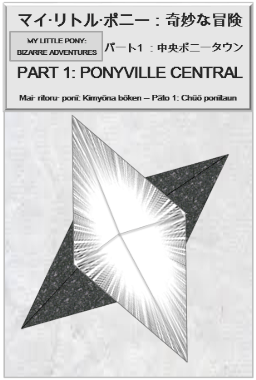 Source
The Red Stone of Aja: An object with power to transcend time and space; a power that can make one's darkest desires a reality. On the thousandth year of Nightmare Moon's Banishment Celestia after drawing upon it's divine powers to purify her sister this power is broken, dispersed across the breadth of Equestria.
Now Princess Representative Twilight Sparkle, must venture to the town of Ponyville, and with the aid of her newfound allies discover the mystery behind the Stone's power. But can she fend off the dark forces that seek the power of the Stone? Or will Equestria be returned back to the darkness from which it came?
Embrace the spirit of Romanticism!
Oh and please Like.
(P.S. JoJo's Bizarre Adventures is owned by Shueisha Inc. and Warner Bros. Entertainment who retain all rights and publications. My Little Pony is of course owned by Hasbro who retains all rights and publications. Support the official release or you will die around the age of eighty realizing that you have wasted your entire life.)
(P.S. In addition please don't sue me. I have no money.)
(P.S.S. Props to my Premiere Editor: Cross Lament Who I couldn't have done this without.)
(P.S.S.S.Why are you still reading this? Read the story or scroll down already!)
Chapters (43)