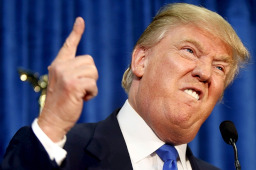 Source
It was a peaceful day in Ponyville, just like most others... until it happened, and aliens began to descend upon the small town.
With the town in ruins, explosions going off left and right, and ponies running around like headless horses, it comes down to one man to save the day...
Donald Trump.
He has a plan: Build a wall, and make Mexico pay for it. Two questions. One: What's Mexico?
And two: How will the ponies react?
---
Written in 3 hours between 3-6 am on a school morning...
Inspired by the laughable ridiculousness of Donald Trump. Most of what he says in this fic is copied from what he has said IRL.
---
Special thanks to my Pre-Reader: supermariosoniclover
Chapters (1)