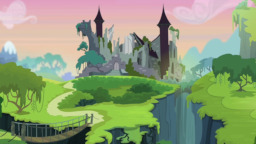 This story is a sequel to Marjoram
---
It's a bad idea to go into the Everfree Forest Alone.
It's an especially bad idea when you have a chronic illness, but that hasn't stopped Marjoram from trying to map out the ever-changing, twisting paths of the forest.
As much as Ponyville legend relies heavily on the forest, they often forget that at the heart of the woods is the ruins of what was once Equestria's crown jewel. A city forgotten by most, a crumbling ruin.
Marjoram explores, and in his explorations finds reason to bring closure to the princesses.
While this is set as a prequel/sequel to Marjoram, you do not need to read that to understand this story.
This is heavily based off of Cold in Gardez' Lost Cities. This focuses mostly on the 4th chapter.
Chapters (1)