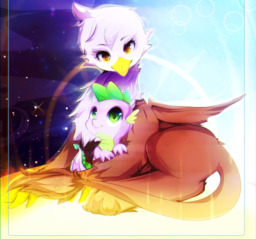 Spike considers himself to be a strong individual. Healthy, happy, but most importantly, sober.
Unfortunately for him, that changes during a night time Summer festival courtesy of Pinkie Pie. After a few dances and spiked drinks from Ponyville's delinquent Berry Punch, Spike finds himself getting drunk....by accident of course. And before he realizes what had happened, he finds himself in his room the next morning sleeping on top of Griffonstone's newest resident baker Gilda Gruff.
Spike will soon see if he is to come out of this situation beaten to a bloody pulp, or come out with a new special somepony to share his feelings with.
(I figured it would be interesting to try my hand at my first shipfic)
(Be gentle with me on this one, this is another one of my experimental fics)
Chapters (2)