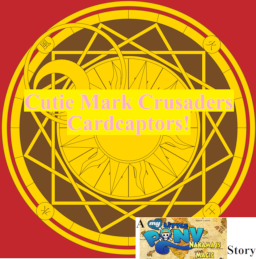 A My Little Pony: Nakama is Magic story
Wind, Rain, Shadow, Wood, Sword, Thunder, Power, Sleep
Cardcaptors of the Clow, expect the unexpected now!
The secrets of the Clow were all a mystery
But when this mighty book was opened, the powers were set free...
Cutie Mark Crusaders! A mystic adventure! Cardcaptors! A quest for all time!
Each card posses a power all its own, they'll have to find them to bring the power home~!
While the Mane Six play pirate, back in Ponyville, the Cutie Mark Crusaders continue their quest to find their cutie marks. Along the way, they make new friends who may just hold all the "cards" to their future and success. Can the CMC and their friends Sakura, Kero, and Tomoya find the Clow Cards before it's too late?
Chapters (6)