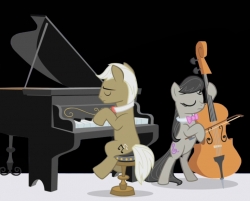 Turn up the volume and get ready for a musical fan-fic!
Years have past as we look upon the story of Old Frederic Horseshoepin as he tries to commit suicide one night, blaming himself for the murder of none other than Octavia Von Clef.
What's Horseshoepin's story? Did the most famous pianist in all of Equestria really kill Octavia? Read on!
Rate! Comment! Please...?
While there is no actual sex or gore, the description at times can be a bit graphic, but nothing objectionable.
Chapters (2)