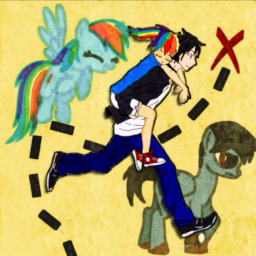 Source
This story is a sequel to Anomalous
---
I guess you could say I'm a frequent flyer of trans-dimensional airlines. I used to be your typical HiE cliché: I was just some lonely, useless, wimpy loser that somehow ends up in a land of happy sunshine and rainbows. And you know, it was cliché, but I had a lot of fun in Equestria. I was just about to actually settle down and get used the situation, but a massive magical blooper on the part of a certain all-powerful alicorn throws me back to my home world. Things should have gone back to normal, but I'm not the only one that got sent back. Now I'm stuck with rainbow-haired girl mourning the loss of her wings. There's gotta be something I can do to help, right?
---
MAJOR spoilers for Anomalous in this story, but it's not necessary to read it beforehand.
Really cruddy cover art by a really cool guy called benxlabs.
Chapters (11)