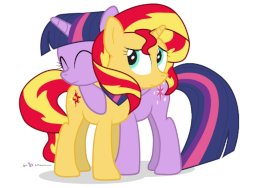 This Story is written entirely in 3rd Person...
This Story is a repeat of a previous story I created that failed inevitably.
During her Summer Break, Sunset Shimmer and Twilight Sparkle have been sending each other letters through their magic books. Twilight has convinced Sunset the idea of coming to Equestria since Sunset has nothing to do. After much thought Sunset accepts the idea and returns to Equestria where she will be greeted by Twilight and Spike. While staying with Twilight in her castle Sunset begins to path to redemption. But along the way Sunset develops a stronger feeling then friendship towards Twilight.
This is an Intro story to a series i'm creating so bare in mind that this story is NOT my best work.
Chapters (18)