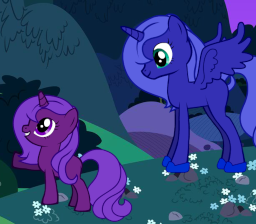 I am Midnight. Midnight Glimmer. Unknown to ponykind. Well, most of them. This is the story of my importance to Equestria.
Have you ever wondered about those tiny details, the ones which seem of little importance, yet if not for them, the big things would never have happened? Who moved the stars which set Nightmare Moon free? And who took up teaching Luna the basics of modern Equestria? These are the answers unlocked. These are also the answers of how they happened in the first place.
And it all has to do with one pony.
Wake up, the Midnight is Here.
Chapters (6)