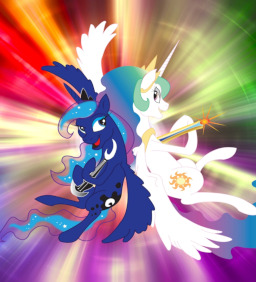 Twilight goes over a list of things she has yet to due with her own student, Starlight Glimmer. So she plans a little camp out and invites everypony.
Everything seems to going perfect, everything was planned, everypony showed up, all the supplies were brought and the campfire was lit, and a lively coversation was going... Then two princesses decide to drop in... and share in a campfire song, which happens to be the best song in the world, ever, but it's actually only a tribute...
Oh, and covert art was done by me.
Chapters (1)