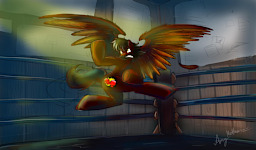 Every Cutie Mark is the symbol of what makes a pony special. Brawler's Cutie Mark is a pair of Boxing gloves, representing hoof to hoof combat. Nopony's ever beaten him in a fair fight. Unfortunately this worries the ponies around him and after a rather complicated incident he is thrown in a dungeon. Years pass, and Brawler is freed when the enchantments on his cell are drained by Tirek. What will Brawler do with his new found freedom?
---
Cover art done by Mad Munchkin
---
1/4/16 How in the HELL did this get featured?!? Whatever, thanks guys!
Chapters (18)