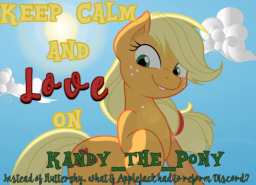 "Ah guess Celestia did see the potential in me," Applejack said.
"You mean us?" Discord asked, looking into his marefriend's emerald green eyes.
"Whatever..." Applejack sighed, rolling her eyes before giggling, her cheeks becoming a fruit punch pink.
---
What would happen if Applejack was asked to reform Discord instead?
When Celestia asks Applejack to reform and teach the meaning of friendship to Discord, Applejack doesn't see the potential. Why her? Well, Celestia knows, and only she knows.
Hilarity, randomness, flashbacks, anger and adventure ensue. Did I mention romance on the list too?
Chapters (4)