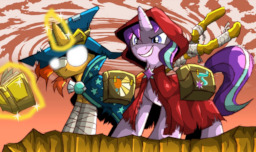 Starlight travels with Sunburst to an old abandoned unicorn settlement that predates the ruling era of the Two Sisters. They're searching for ancient lost spells but something "bad" happens to them and its up to their friends to figure out what's going on.
I wrote it on my phone during those boring trips to work. It was a lot shorter before I edited it on my computer. It reads like an anime, a very bad one, so you've been warned.
This is likely the first and only fanfic I'll make for MLP.
Chapters (8)