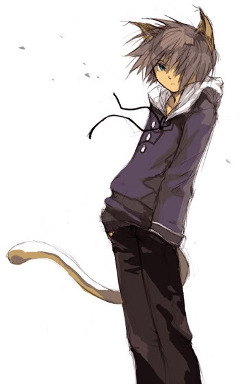 Freaks.
Thats what everyone calls us. Freaks or monsters just because we have animal ears and a tail. Me and my cousin just want to live a peaceful life without the government hunting us down for their experiments. My cousin, she's just eight years old and I thirteen. We have lived with our 'deformities' since we were born. The doctors couldn't figure out how either of us got the ears or tail. It was later on in my life that I figured out I had telekinesis and other powers, and that just made the government want us even more after finding out. They wanted to turn us into weapons but I grabbed Nate and ran away before they could.
One day we were backed into an alleyway and corned. With nowhere to run I was about to give up, but that was before a tear in space opened behind us. Now I did the smartest thing you could do in this situation, I used my powers on the soldiers before grabbing a few of their weapons, one of their trucks and my cousin before going in. What lied on the other side we were not prepared for.
A/N: This story takes place in a universe where mlp never existed. This will be set in a YHaY universe and the story will take place roughly close to two years before Nightmare Moon returns.. Also the chapters may be uploaded slowly due to school, but I will try me hardest to get them out to you.
Original story belongs to Madmaxtheblack, and MLP is owned by Hasbro.
Chapters (8)