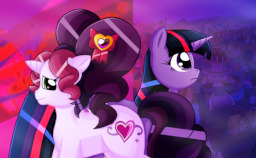 Before the Night that Never End and Discord's rule, there is a 2000-year old war that erupted throughout two worlds: Equestria and Sympoina. Along with it is a curse that plagued the Royal Family of Symponia, that changed the whole world forever.
2000 years later, Princess Celestia and Luna received a warning from a evil being who got sealed by both their parents. They decided to send Twilight Sparkle and her friends to the world of Symponia and find the legendary Symphony Treasures to stop him.
But after they met the Sweetie Belle in that world, she herself involved in Twilight and her friend's quest and find out that she had something in common with Twilight. Now, how can they stop a new evil force that could mean the end of both worlds.....in less than 8 Days?
Chapters (9)