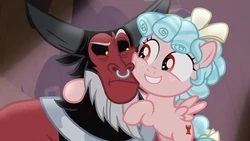 Source
Retrieving Grogar's long lost bell was a good start, but Cozy Glow knows that she, Tirek and Chrysalis still have a ways to go before they'll be a true team capable of defeating Twilight Sparkle and her friends. With Chrysalis away on another infiltration/sabotage mission, Cozy has to rely on her other bestest frenemy to be up for another, albeit smaller, team-building exercise. After all, teamwork, just like friendship, has to come from small things as well as big.
---
Written for TheDriderPony for Jinglemas2022
Happy Hearth's Warming, everycreature!
Chapters (1)