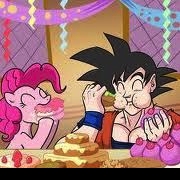 Everybody knows about Goku, the one Saiyan who avenged his race and defeated the evil Frieza, and especially his son, Gohan. Goku is said to be dead, what they don't know, is he is actually alive, and sent to a strange planet where friendship is a form of magic. In short, its Vegeta's worst nightmare.
Wanna ask me a question about this story? Go here!: http://www.fimfiction.net/blog/366712/ask-gmd-1
Current blog post: http://www.fimfiction.net/blog/378181/no-just-no
Artwork by: GabrielDemarco1031

Current chapter i'm working on: None
Wanna get the latest news on this? Join DBZ Crossovers now! And submit you're best story of DBZ and MLP! If you don't have one, join anyway!
Chapters (8)