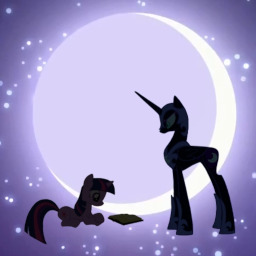 The moon pony has returned! But, in order to cancel the eternal night, Twilight Sparkle needs to… get some sleep! And besides, why all that panic? Will she change her mind when somepony pays her a visit uninvited?
An alternative scenario of S1E1-2 with elements of humor.
"Teen" for light suggestive moments.
I published the original text in Russian in 2015. Over the years, I went through several iterations in attempt to translate it into English, though I wasn't prepared enough, and failed. Until now, that I consider myself prepared enough, and the text satisfying my minimal requirements for publication. I also thank FireMedic755, Karibela, Kean, Koekelbag, Majora, metallusionsismagic, MIKEANTHONY321 for their contribution during this journey.
Afaik, the English expression "the man in the moon" is used to refer to (besides the face-like pattern on the satellite's surface) someone regarded as out of touch with real life. Russian has a similar expression, supposing that the absentminded individuals "fell from the moon". Thus, the story's title refers to (and connects them) both Twilight and NMM, more figuratively for the former, and more literally for the latter.
The cover image is collaged of screencap material generously provided by Hasbro. I hope they won't mind

Chapters (1)