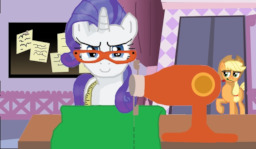 Source
Awesome cover art by JazzyQ.
Applejack meets with Rarity every month, as per Twilight's rule for maintaining friendship. She always looks forward to it, just as she looks forward to meeting with all of her friends. But when Rarity arrives hours late, this simple country pony struggles to face a truth about herself. Worse, countless chain reactions have suddenly pit all her friends against each other.
Applejack must find a way to handle the part of herself she wishes wasn't there, while grappling the intense drama that comes with it.
Chapters (1)