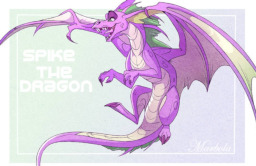 This story is a sequel to The Dragon Lord's Legacy
---
Spike the Dragon, is now Guardian Spike. His role has just started but so has the many challenges that come with it. From his position, he now faces foes and challenges from his past, in the present as a Guardian and his future as an Elder. His days spent with his pony family are limited, his heart is being tested and an unknown variable keeps coming to play with him at all sides.
Will he succeed in his role as the Dragon Guardian, changing not just his life but the lives of others?
The Final fire burns within and Spike's journey has just started, in this third and final arc in the Dragon Lord series!
Note art is a temporary cover. All credit goes to Artist and respected rights to them.
Chapters (7)