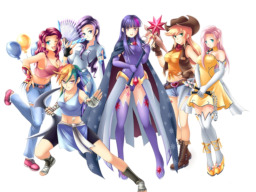 Source
Some of you may think you know me. I'm just another name in a long list of kidnapping victims, the only pattern of which is that they disappeared from conventions after talking to an unidentified man dressed as the merchant from Resident Evil 4. No matter how many people he's seemingly abducted, police and security have never caught him, or found any of his victims. I'm just another casualty of a world gone insane, fallen through the cracks.
At first, my only company was a Chocobo whose egg I'd been forced to buy from him. But it turns out I'm not alone in this world after all. This world is inhabited by ponies who can talk and have their own society. Some of them have supposedly been chosen for a game along with myself and the other kidnapped humans, though the details on this game are few and far between.
And we all have superpowers of our own for no adequately explained reason.
I'm starting to wonder if wandering alone for eternity with Karin wouldn't have been better.
~~
It's back and better than ever (which isn't saying a whole lot.) Taking a few old ideas of mine and combining them, this is a Displaced story with (some) humanised ponies and other things that some people might well object to and thumbs-down without even reading it.
Based on the gallery of this guy on Deviantart.
Too many copyrighted properties are about to be involved, so I'll just leave it that all properties whose characters and concepts are used belong to their respective owners, and the only thing I own is this story, which I don't intend to profit from.
Rated T for occasional swearing and moderately frequent (though not particularly brutal) violence.
Chapters (9)