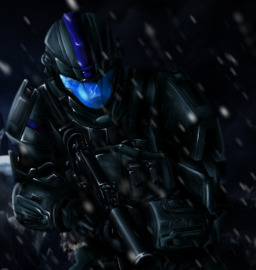 The year is 2555 C.E, and the Human Covenant War has been over for three years. Michael, a soldier in the fledgling Spartan IV program, goes on one last mission, a supposed training run for new ODST recruits. But the Forerunner structure he finds himself in is not like any other; it holds what is only called "The Parasite." When Michael is killed by these creatures, he wakes up in a strange new place, filled with talking pastel ponies.
When he meets the A.I. of the constructed world, she has a problem. A mysterious entity has forced her out of her own mainframe, leaving her stranded on a single holographic chip. Michael sets out to try and restore her back to where she belongs, but he has problems of his own.
Michael is overtaken by bouts of random rage, where he is consumed by the need to kill and grow. During these moments, his skin changes to a sickly yellow, and his eyes lose all color. Can Michael stave off the creeping sickness long enough to find a cure, while also convincing the ponies of this world that he won't kill anyone, when he can't even convince himself?
Cover by: Art4Games, with a little color change by myself.
Chapters (6)