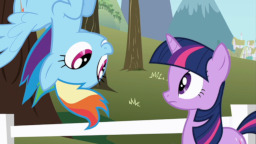 [Interactive Story] You are Rainbow Dash! Congrats. You want to get to the Daytona 500 but due to a small comment Twilight won't let you.
BUT
She says she will read your mind, if she does you have to become Applejack's Slave while she is away. If she doesn't, you're going to the Daytona 500!
Come take up the challenge, see if Twilight truly can read your mind.
Chapters (1)