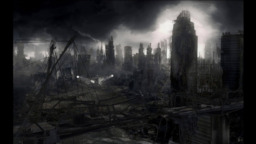 Twilight Sparkle, the Princess of Friendship, have kept close contact with Sunset Shimmer ever since she left after the events of Rainbow Rocks. The two are close with each other like two peas in a pod.
However, that changes when Sunset Shimmer's entries became more concerning and after one last message, she hasn't heard from her for 8 months. Deciding to take matters in her own hooves, she gathers the strength to return and find her friend.
Little did she know that the City Of Canterlot has been reduced to ruins.
---
Beware of spoilers in the comments, only check the comments at your risk! This fic has a mix of Fallout elements and real life guns and equipment.
This is a fic inspired by fanfics such as the legendary Fallout: Equestria by Kkat, Fallout: Equestria Girls by Extra-dimensional Alien and various fics that depicts the world of EQG in a ruined world.
The events of the fic take place after Season 8 of MLP: Friendship is Magic and Equestria Girls: Forgotten Friendship, as well as the Equestria Girls shorts.
I've been brewing this major fic of mine ever since I've read the fics I mentioned above, to which I only began writing as of now! Upload will be on a weekly basis depending on my schedule!
Chapters (2)